The 17 Day Diet
Dr Mike Moreno, author of The 17 Day Diet graduated from the Drexel University College of Medicine in 1996.
Dr Mike, as he is known, wrote the book, The 17 Day Diet, in 2010. In addition, there is a workbook, cookbook, and a DVD. 17 really is his magic number.
Unlike most nutritionists and also doctors who specialise in diets for their patients, Dr Mike believes in fast weight loss, instead of the usual 1 to 2 pounds of weight loss per week. He believes that 10-12 pounds can be lost in 17 days, depending on how overweight you are. His belief in losing weight quickly is centred on the simple fact that it will keep you motivated, and you will notice changes every day. Additionally, as long as you follow the plan you won't put the weight back on, and you won't get fed up.
The 17 Day Diet Plan and Food List

The diet contains 4 17 day cycles, so once you have finished the first, you go straight on to the second and so on. You could call the last cycle an on-going forever phase. You will have to give up unhealthy fattening processed food and replace it with fresh vegetables, lean meat and fruit, well, until the last cycle. So what are these cycles: accelerate, activate, achieve and arrive. You will take each 17 day chunk at a time.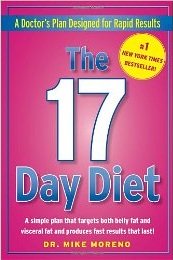 During cycle 1, Dr Mike says you will see the most weight loss, hence the term, accelerate. It's about cleansing the body. Every morning you'll start with a drink of water with half the juice of half a freshly squeezed lemon. With fat burning boosted and sugar removed from your system, your digestion will substantially improve. Some of the foods included are vegetables, tomatoes, cucumber, chicken, fish, and probiotics such as yoghurt to get good bacteria. You will have to give up certain foods, primarily carbohydrates (for example, pasta, fruit, potatoes) and sugar (e.g. ice cream, cakes, and doughnuts), also alcohol and bread.
Activate is about restoring your metabolism. The calories you eat will constantly change to confuse your body which again will continue the fat burning process. Some of the foods you had to give up at the beginning are slowly re-introduced, a little wine is also permitted – not many diets allow alcohol.
The third cycle re-introduces foods that were previously not allowed and is a lot less restricted, such as bread, even some desserts. Now you have arrived, and as long as you follow the suggested plan, you can eat again, some of those naughty foods that you gave up at the beginning, in moderation though.
If you go on holiday and stop following the plan you can always go back to cycle 1 and start over.
The 17 Day Workbook is exactly that, you fill it in as you go along. It becomes your food diary covering the foods that you eat, what you want to achieve, what you want to overcome, your weight, you can write it all down. Dr Mike believes in exercise as well as diet and the workbook also includes a log for keeping fit.
The 17 Day Diet Cookbook contains 80 recipes, spilt between each of the four cycles. And lastly, The 17 Minute Workout contains three 17 minute workouts focusing on the core, butt and total body conditioning.
Sample of the 17 Day Diet Menu

Breakfast:
1 Dr Mike's Power Cookie (recipe in the book);
1 medium peach, sliced;
1 cup green tea;
Snack:
1 serving Yoghurt Fruitshake (recipe in the book);
Lunch:
Fruit salad made of 115g (4 oz.) natural cottage cheese with 85g (3 oz.) diced strawberries and 85g (3 oz.) diced peach served on a generous bed of lettuce;
1 cup green tea;
Snack:
1 serving Berry Frozen Yoghurt (recipe in the book);
Dinner:
1 serving Roast Prawn and Broccoli (recipe in the book);
1 cup green tea.
The 17 Day Diet book can be purchased at a discounted price from amazon.
Author: Lana Soko
Return from the 17 Day Diet to Fat Burning Diets

| | |
| --- | --- |
| Like This Page? | Share This Page: |
Back to top