Calories in Fruit
A lot of people are worried about the amount of calories in fruit and avoid eating fruit altogether during weight loss. The amount of calories in fruit does vary between the different fruits, but when compared to vegetables, fruit calories are generally higher because they contain fructose (fruit sugar).
Almost all fruits can be eaten fresh with little or no preparation. Eating fruit regularly will provide many health benefits and should be eaten instead of sugary snacks. So if you have a sweet craving, eat fruit, not cake. Dried fruits such as apricots and raisins also make great snacks.

Fruit is generally picked at the time it is ripe, which makes them highly perishable. When purchasing, ensure the fruit is not over ripe. If the fruit is not yet ripe, let it ripen at room temperature. Most fruit will last a few days after it has been purchased.

You can also juice most fruits or consider mixing with a zero fat yoghurt. The general rule on taste is the smaller the fruit, the more intense the flavor. Also, it is more beneficial to your health to eat fresh fruit instead of drinking fresh fruit juice.

If you are trying to reduce your calorie intake to lose weight and have to count the calories you're eating, have a look at our fruit calorie chart below. It will tell you the amount of calories in fruit per 100 grams serving portion which will help you to select fruits which are either low or high in calories, ranging from tomatoes at 18 calories per 100g serving, to dates which are a little under 300 calories per 100g serving. As you can see, the calories in fruit do vary widely.
You can make the right choice for your healthy diet to lose weight. All of our calorie information is provided by the US Department of Agriculture.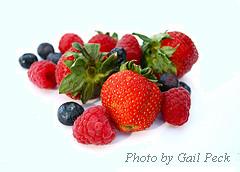 Fruit Calorie Chart
Calories in Fresh Fruit
(Calories per 100 grams).
Click on the links below to see calories in the different serving size.
---
Return from Calories in Fruit to Lose Weight with Us Home Page

| | |
| --- | --- |
| Like This Page? | Share This Page: |
Back to top