Calories in a Peach

How many calories in a Peach? We provide you with the calories in Peaches for the different serving sizes, Peach nutrition facts and the health benefits of Peaches to help you eat a healthy diet and lose weight.
Grown from a small deciduous tree, the Peach is a yellowish, reddish fruit with a velvety skin and a juicy white or yellow flesh depending on the variety. There are two types of Peach: one with velvet skin, called, not surprisingly, a Peach, and the other one with smooth skin, which is a Nectarine.
Though Nectarines are commercially regarded as a different fruit, they belong to the same species as Peaches.
Peaches are high in Vitamins A, C, and Potassium. Peaches are thought to help combat cancer, reduce the chance of heart disease and aid digestion as they acts as a gentle laxative. Other Peach benefits include recommendations for rheumatoid sufferers and lowering blood pressure.

Peaches are 79% water and most of the calories in a Peach are from carbohydrates.
We have a number of calorie tables below, depending on how you wish to eat your peach including dried, frozen, canned and fresh. See our fruit calories comparison chart to compare calories in a Peach with the other calories in fruit. This will enable you to select which fruit should form part of your diet. All our calorie information is obtained from the US Department of Agriculture.

To learn more about their nutrition, take a look at the Peach Nutrition Facts. Also, have a look how nutritious Peaches are in comparison to the nutrition in other fruit.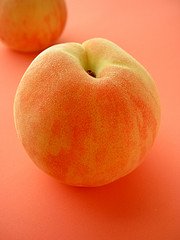 Calories in Peaches, raw, with skin

Refuse:
4% (Pit)
Scientific Name:
Prunus persica
| | |
| --- | --- |
| Serving size: | Calories per Serving |
| 100 grams | 39.0 kcal (163 kJ) |
| 1 ounce (28g) | 10.9 kcal (45.6 kJ) |
| 1 cup slices (154g) | 60.1 kcal (252 kJ) |
| Calories in a small Peach: 1 small (2-1/2" dia) (130g) | 50.7 kcal (212 kJ) |
| Calories in a medium Peach: 1 medium (2-2/3" dia) (150g) | 58.5 kcal (245 kJ) |
| Calories in a large Peach: 1 large (2-3/4" dia) (175g) | 68.3 kcal (286 kJ) |
| Calories in an extra large Peach: 1 extra large (3" dia) (224g) | 87.4 kcal (366 kJ) |
| 1 NLEA Serving (147g) | 57.3 kcal (240 kJ) |
Peaches, dried, sulfured, uncooked
Refuse:
0%
| | |
| --- | --- |
| Serving size: | Calories per Serving |
| 100 grams | 239 kcal (1000 kJ) |
| 1 cup, halves, (160g) | 382 kcal (1600 kJ) |
| 1 half (13g) | 31 kcal (130 kJ) |
Peaches, dehydrated (low-moisture), sulfured, uncooked
Refuse:
0%
| | |
| --- | --- |
| Serving size: | Calories per Serving |
| 100 grams | 325 kcal (1360 kJ) |
| 1 cup, (116g) | 377 kcal (1578 kJ) |
Peaches, frozen, sliced, sweetened
Refuse:
0%
| | |
| --- | --- |
| Serving size: | Calories per Serving |
| 100 grams | 94 kcal (393 kJ) |
| 1 cup, thawed, (250g) | 235 kcal (982 kJ) |
| 10 slices (155g) | 146 kcal (609 kJ) |
| 1 package (10 oz) (284g) | 267 kcal (1116 kJ) |
Peaches, canned, water pack, solids and liquids
Refuse:
0%
| | |
| --- | --- |
| Serving size: | Calories per Serving |
| 100 grams | 24 kcal (100 kJ) |
| 1 cup, halves or slices, (244g) | 59 kcal (244 kJ) |
| 1 half, with liquid, (98g) | 24 kcal (98 kJ) |
Peaches, canned, juice pack, solids and liquids
Refuse:
0%
| | |
| --- | --- |
| Serving size: | Calories per Serving |
| 100 grams | 44 kcal (184 kJ) |
| 1 cup, (250g) | 110 kcal (460 kJ) |
| 1 cup, halves or slices, (248g) | 109 kcal (456 kJ) |
| 1 half, with liquid, (98g) | 43 kcal (180 kJ) |
Source:
USDA National Nutrient Database for Standard Reference
---
Return from Calories in a Peach to Calories in Food

Return from Calories in a Peach to Lose Weight With Us Home Page

| | |
| --- | --- |
| Like This Page? | Share This Page: |
Back to top