Calories in Fish
How many calories in fish? Fish is a rich source of Omega-3 fatty acids which decreases the growth of fat cells, therefore can be a great addition to your weight loss program.

Calories in fish are normally low due to the low fat content in white types of fish such as: Sea Bass, Haddock, Cod, Mullet, Monkfish, Sole, Halibut, etc. When purchasing fish, check to see if it's farmed as the calorie content may be higher due to an increased probability of fat.  Also, how you cook fish may affect the number of calories - choose steaming and grilling fish over frying fish. Whilst oily fish calories are significantly higher, oily fish is a very good source of essential fatty acids such as omega-3.
The health benefits of omega 3 include lowering the risk of both heart disease and cancer. It is a natural source of vitamin D which helps in the absorption of calcium. A portion of oily fish such as: salmon, mackerel, herring, tuna, or sardines is recommended at least once a week.  For people who do not like fish, we recommend a supplement of fish oil.
There are links below to calorie tables for a large assortment of fish. If we do not show the fish your are interested in, please let us know and we'll get it added. All of our calorie information is sourced from the US Department of Agriculture.
At the bottom of the page, we've also added several delicious fish recipes for you to try.

Calories in Fish per 100 grams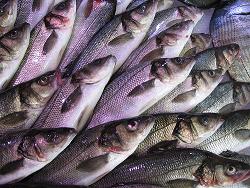 Calories in Anchovy
131 kcal raw
210 kcal canned in oil

Calories in Carp
127 kcal raw
162 kcal cooked, dry heat

Calories in Cod, Atlantic, Pacific
82 kcal
290 kcal dried and salted
105 kcal cooked, dry heat

Calories in Haddock
87 kcal raw
116 kcal smoked
112 kcal cooked, dry heat

Calories in Halibut, Atlantic, Pacific
110 kcal raw
140 kcal cooked, dry heat

Calories in Herring, Atlantic/Pacific
158/195 kcal raw
203/250 kcal cooked, dry heat
262 kcal Atlantic, pickled

Calories in Mackerel, Atlantic/Pacific/king/spanish
205/158/105/139 kcal raw
262/201/134/158 kcal cooked, dry heat
305 kcal salted

Calories in Monkfish
76 kcal raw
97 kcal cooked, dry heat

Calories in Salmon, Atlantic, wild/farmed
142/208 kcal raw
182/206 kcal cooked, dry heat

Calories in Sardines
208 kcal canned in oil
186 kcal canned in tomato sauce

Calories in Sea Bass
97 kcal raw
124 kcal cooked, dry heat

Calories in Snapper
100 kcal raw
128 kcal cooked, dry heat

Calories in Sole
91 kcal raw
117 kcal cooked, dry heat

Calories in Swordfish
121 kcal raw
155 kcal cooked, dry heat

Calories in Trout, Rainbow, wild/farmed
119/138 kcal raw
150/169 kcal cooked, dry heat

Calories in Tuna
103 kcal raw
132 kcal cooked, dry heat
---
Fish Recipes
| | |
| --- | --- |
| | High in protein, and very low in carbs, this very tasty omelette (omelet) contains prawns, cheese and a hint of chilli. It is high in fat, but good fat. Worried about calories in eggs, then read here |
| | This delicious fish soup takes just 25 minutes to cook. It contains just 294 calories. The recipe contains more than our recommended daily intake for both magnesium and B12 |
| | In less than an hour, you could be serving this cod recipe. High in protein and very low in fat, it packs more than 100% of your daily recommended vitamin C intake |
| | Great for breakfast, lunch or dinner, this attractive frittata contains fat free cheese and takes a little more than half an hour. High in protein, it's bursting with vitamins C, B6 and copper |
| | Containing sour cream, lemon and dill, this recipe is full of delicious flavors and can be prepared and cooked in just 30 minutes. It provides your recommended daily intake of selenium |
You Might Also Like

| | |
| --- | --- |
| Like This Page? | Share This Page: |
Back to top