Calories in a Clementine

How many calories in a Clementine? See below, the Clementine calories for the different serving sizes. We provide you with Clementine nutrition facts and the health benefits of Clementines to help you lose weight and eat a healthy diet.
Clementines are sweet and juicy and loaded with nutritional and health benefits. Clementines, as with all other citrus fruits, are a rich source of vitamin C. Regular intake of vitamin C can protect us from many diseases. It is also a good source of calcium and potassium.
Clementine benefits include: anti-oxidant properties, help to improve vision, promotes weight loss, and maintains healthy digestion. The Clementine scent triggers serotonin in the brain which gives you a "feel good" feeling.
When applied to the skin it helps to reduce fine lines as vitamin C stimulates production of collagen and citric acid kills bacteria that cause skin blemishes. To understand more about clementine nutrition take a look at our clementine nutrition facts.

See our fruit calories comparison chart to compare calories in a Clementine with calories in other fruit.

Also, have a look how nutritious Clementines are in comparison to the other fruit nutrition facts.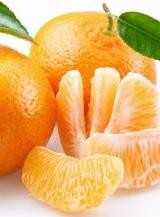 Clementines, raw
Refuse:
23% (Peel and seeds)
Scientific Name:
Citrus clementina hort. ex Tanaka
| | |
| --- | --- |
| Serving Size | Calories per Serving |
| 100 grams | 47 kcal (198 kJ) |
| 1 fruit, 74 grams | 35 kcal (147 kJ) |
Source:
USDA National Nutrient Database for Standard Reference
---
Return to Lose Weight With Us Home Page
| | |
| --- | --- |
| Like This Page? | Share This Page: |
Back to top