Lose Weight

Calories in Food

Calories in Vegetables

Avocado Calories
Avocado Calories,
Avocado Information, Avocado Nutrition Facts

Avocado Calories and Weight Loss:
82% of calories in avocado fruit come from fat which makes people very sceptical about its positive effect on weight issues. This negative misconception about avocado calorie content reduces its usage. Though calories in an avocado are high, recent research suggested that with the right timing of consumption and exercise, the avocado can be a helpful part of a successful weight management program.

Benefits of avocado include: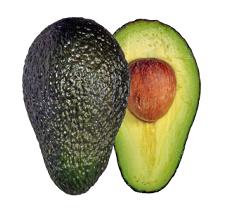 It is a rich source of monounsaturated fat which will boost your metabolism naturally, unlike saturated fat;

It helps to reduce overeating as the avocados high fat content gives the feeling of satisfaction quicker and reduces the temptation to snack as it will keep you full for longer;
Its rich supply of vitamins and minerals makes the basis of a healthy diet;
Avocado health benefits: improves your levels of cholesterol.

Not many people will have quick weight loss as a result of increasing their avocado consumption; however, the more slowly one loses weight - the less likely one is to regain it.
In the calories avocado chart below you can see the content of calories per one avocado depending on the avocado size and calories per serving. Compare the Avocado calories with the other calories in fruit.

How to Make Guacamole?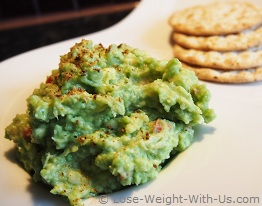 Ingredients: 2 small ripe avocados, juice of 1/2 lime, 1 garlic clove, 1 small chilli, cajun blend seasoning, salt and pepper to taste.
Mix the peeled avocado with all the ingredients in the food processor until smooth. Alternatively, you can use a potato masher for the avocado and finally chop the other ingredients. Serve with a pinch of cajun blend over the top.
Calories in Avocados
Serving Size:
Calories per Serving
100 grams
160 kcal (670 kJ)
1 cup, cubes (150g)
240 kcal (1005 kJ)
1 cup, pureed (230g)
368 kcal (1541 kJ)
1 cup, sliced (146g)
234 kcal (978 kJ)
1 avocado, NS as to
Florida or California (201g)
322 kcal (1347 kJ)
Avocado Nutrition Information

The avocado is the most nutritional of all fruits containing protein, fat, fiber, vitamins and antioxidants. It contains 3 times as much vitamin B6 per gram as a banana – vitamin B6 is important for the nervous system, teeth and gums and blood cells. Read more about Avocado nutrition facts and health benefits of Avocado.
Avocado Nutrition Facts
Avocado, raw (edible parts)
Nutritional value per 100 g (3.5 oz)
Energy
670 kJ (160 kcal)
Carbohydrates
8.53 g
Sugars
0.66 g
Dietary fiber
6.7 g
Fat
14.66 g
saturated
2.13 g
monounsaturated
9.80 g
polyunsaturated
1.82 g
Protein
2 g
Thiamine (Vit. B1)
0.067 mg (5%)
Riboflavin (Vit. B2)
0.130 mg (9%)
Niacin (Vit. B3)
1.738 mg (12%)
Pantothenic acid (B5)
1.389 mg (28%)
Vitamin B6
0.257 mg (20%)
Folate (Vit. B9)
58 mcg (15%)
Vitamin C
10 mg (17%)
Calcium
12 mg (1%)
Iron
0.55 mg (4%)
Magnesium
29 mg (8%)
Phosphorus
52 mg (7%)
Potassium
485 mg (10%)
Zinc
0.64 mg (6%)
Copper
0.190 mg (10%)
Manganese
0.142 mg (7%)
Percentages are relative to US recommendations for adults.
Source: USDA Nutrient database
Author: Lana Soko
Avocado Recipes


No steak fajitas would be complete without guacamole. Cooking time 1 hour 15 min if you need to marinate the meat or 20 min if you go for the quick option - grill the steak as is and add  lots of chillies. There are 287 kcal and 5g of net carbs per portion.
---

Use avocado, bacon, tomato, lettuce, parsley and our wonderful avocado salad dressing to make a quick salad - you only need 15 min to do so. The recipe is very nutritious, low in carbs, calories, glycemic index and it's very tasty.
---

Our quick and easy avocado, cucumber and cottage cheese soup will make a healthy lunch or a snack in just 5 min. The recipe is low in calories (197 kcal), carbs (4g of net carbs), good source of fiber, vitamin C and folate.
Want To Learn More?
| | |
| --- | --- |
| Like This Page? | Share This Page: |
Back to top