Calories in Grapes
How many calories in Grapes? See below, the Grape calories, the Grape juice calories and the calories in Raisins for the different serving sizes.
We provide you with the Grape nutrition facts and the health benefits of Grapes to help you to lose weight and eat a healthy diet.
Everybody loves grapes. Although a single Grape only contains a few calories, we eat quite a lot of them at a time, so Grape calories can add up.

Grapes come in many colors, but the most popular are green, red and black. They also come in many varieties, and are generally split between the varieties we eat and varieties for making wine. Raisins and sultanas are simply dried grapes.

Grapes contain glucose, a carbohydrate, which gives us energy. They also contain fructose, another carbohydrate, which gives grapes their sweet taste. They are considered a low GI (Glycemic Index) food.

They provide a good source of vitamins B1-B3, B5, B6, K, manganese, potassium and fluoride, as well as other vitamins and minerals. They contain no cholesterol at all. Grapes are full of phytonutrients, and are thought to be very good at regulating our blood sugar levels and acting as an anti-inflammatory. Other Grape benefits are believed to include lowering our bad cholesterol (LDL) and helping to protect against cardiovascular diseases.

See our fruit calories comparison chart to compare the calories in Grapes with the other calories in fruit to assist in building your diet plan.
Read about Grape, Grape Juice and Raisins Nutrition Facts in more detail.
Also, have a look how nutritious Grapes are in comparison to the other fruit nutrition facts.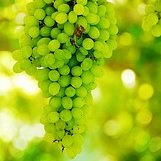 Grapes, red or green (European type, such as Thompson seedless), raw
Refuse:
4% (Stems)
Scientific Name:
Vitis vinifera
| | |
| --- | --- |
| Serving Size | Calories per Serving |
| 100 grams | 69 kcal (288 kJ) |
| 1 ounce (28 g) | 19.3 kcal (80.8 kJ) |
| 1 cup (151 g) | 104 kcal (435 kJ) |
| Calories in a Grape: 10 grapes (49 g) | 34 kcal (141 kJ) |
| 1 NLEA serving (126 g) | 87 kcal (363 kJ) |
Calories in Grapes, muscadine, raw *
Refuse:
4% (Seeds)
Scientific Name:
Vitis rotundifolia
| | |
| --- | --- |
| Serving Size | Calories per Serving |
| 100 grams | 57 kcal (238 kJ) |
| Calories in a Grape: 1 grape, 6 grams | 3 kcal (14 kJ) |
Footnotes:
* 1 Includes analysis of Higgins, Jumbo, and Roanoke varieties.
Calories in Grapes, American type (slip skin), raw
Refuse:
42% (6% seeds, 34% skin, 2% stems)
Scientific Name:
Vitis spp.
| | |
| --- | --- |
| Serving Size | Calories per Serving |
| 100 grams | 67 kcal (280 kJ) |
| 1 cup (92 g) | 62 kcal (258 kJ) |
| 1 grape (2.4 g) | 2 kcal (7 kJ) |
Grapes, canned, thompson seedless, heavy syrup pack, solids and liquids
Refuse:
0%
| | |
| --- | --- |
| Serving Size | Calories per Serving |
| 100 grams | 76 kcal (319 kJ) |
| 1 cup (256 g) | 195 kcal (817 kJ) |
Grapes, canned, thompson seedless, water pack, solids and liquids
Refuse:
0%
| | |
| --- | --- |
| Serving Size | Calories per Serving |
| 100 grams | 40 kcal (167 kJ) |
| 1 cup (245 g) | 98 kcal (409 kJ) |
Grape juice, canned or bottled, unsweetened, with added ascorbic acid **
Refuse:
0%
| | |
| --- | --- |
| Serving Size | Calories per Serving |
| 100 grams | 60 kcal (252 kJ) |
| 1 cup (253 g) | 152 kcal (638 kJ) |
| 1 fl oz (31.6 g) | 19 kcal (80 kJ) |
Footnotes:
** 1 Includes purple and white grape juice
Grape juice, canned or bottled, unsweetened, without added ascorbic acid
Refuse:
0%
| | |
| --- | --- |
| Serving Size | Calories per Serving |
| 100 grams | 60 kcal (252 kJ) |
| 1 cup (253 g) | 152 kcal (638 kJ) |
| 1 fl oz (31.6 g) | 19 kcal (80 kJ) |
Grape juice cocktail, frozen concentrate, undiluted, with added ascorbic acid
Refuse:
0%
| | |
| --- | --- |
| Serving Size | Calories per Serving |
| 100 grams | 176 kcal (749 kJ) |
| 1 can (6 fl oz)(216 g) | 387 kcal (1618 kJ) |
Grape juice cocktail, frozen concentrate, diluted with 3 volume water, with added ascorbic acid
Refuse:
0%
| | |
| --- | --- |
| Serving Size | Calories per Serving |
| 100 grams | 51 kcal (213 kJ) |
| 1 cup (250 g) | 128 kcal (532 kJ) |
| 1 fl oz (31.3 g) | 16 kcal (66 kJ) |
Grape juice drink, canned
Refuse:
0%
| | |
| --- | --- |
| Serving Size | Calories per Serving |
| 100 grams | 57 kcal (237 kJ) |
| 1 cup (8 fl oz)(250 g) | 142 kcal (592 kJ) |
| 1 fl oz (31.3 g) | 18 kcal (74 kJ) |
Calories in Raisins, seedless
Refuse:
0%
Scientific Name:
Vitis vinifera
| | |
| --- | --- |
| Serving Size | Calories per Serving |
| 100 grams | 299 kcal (1252 kJ) |
| 1 cup, packed (165 g) | 493 kcal (2066 kJ) |
| 1 cup (not packed) (145 g) | 434 kcal (1815 kJ) |
| 1 miniature box (.5 oz) (14 g) | 42 kcal (175 kJ) |
| 1 small box (1.5 oz) (43 g) | 129 kcal (538 kJ) |
| 50 raisins (26 g) | 78 kcal (326 kJ) |
| 1 oz (60 raisins) (28.35 g) | 85 kcal (355 kJ) |
Calories in Raisins, seeded
Refuse:
0%
Scientific Name:
Vitis vinifera
| | |
| --- | --- |
| Serving Size | Calories per Serving |
| 100 grams | 296 kcal (1238 kJ) |
| 1 cup, packed (165 g) | 488 kcal (2043 kJ) |
| 1 cup (not packed) (145 g) | 429 kcal (1795 kJ) |
Calories in Currants, zante, dried
Refuse:
0%
Scientific Name:
Vitis vinifera
| | |
| --- | --- |
| Serving Size | Calories per Serving |
| 100 grams | 283 kcal (1184 kJ) |
| 1 cup (144 g) | 408 kcal (1705 kJ) |
---
Return from Calories in Grapes to our Food Calories List
Return from Calories in Grapes to Lose Weight With Us Home Page

| | |
| --- | --- |
| Like This Page? | Share This Page: |
Back to top