Calories in Beef
The number of calories in beef are generally high. This is due to both the high content of protein and fat. We all enjoy red meat now and again, so ensure you choose lean cuts to reduce the calories. Whilst we agree that fat adds flavor, when you are on a weight loss diet, the fat should be removed before cooking.
It's important you learn how to cook beef the right way to minimize the calories. For example: pan frying beef will add calories. It is better to grill or broil. If you must fry, fry on a griddle, so the juices and fat run away.
There are numerous beef cuts and beef grades which depend on the quality of meat. We will concentrate on high quality choice beef which is widely available.

The calorie count will vary depending on the type of beef as some cuts are fattier than others.  In the calories in roast beef chart below you can see the number of calories per typical serving size for the different types of cuts of beef which are suitable for roasting. 

Also see the calories in beef stew comparison chart. We've included a number of options for you.
All of our calorie information is sourced from the US Department of Agriculture.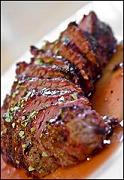 Calories in Roast Beef
Types of Beef Cuts

Serving Size

Lean Only, Trimmed to No Fat

Lean Only, Trimmed to 1/8"Fat

Bottom Sirloin
100 gr

1 roast 591 gr
193 kcal

1141 kcal



_

Beef rib, large end (ribs 6-9)
100 gr

1 serving
3 oz,85 gr
253 kcal

215 kcal



_

Round, bottom round or Rump
100 gr

1 roast(yield from 627 gr raw meat) 515 gr

1 serving 3oz,85gr

1 lb, 453.6 gr
185 kcal

953 kcal



157 kcal
179 kcal





153 kcal


812 kcal
Round, tip round or Rump
100 gr

1 roast (yield from 1405 g raw meat) 1388 gr

1 serving 3oz,85gr
176 kcal

2003 kcal



150 kcal





_

Round, eye of round or Rump
100 gr

1 serving 3oz,85gr

1 roast (yield from 445 g raw meat) 335 gr

1 lb, 453.6 gr
162 kcal

138 kcal


575 kcal
175 kcal

150 kcal






794 kcal
Calories in Beef Stews
Types of Beef Cuts

Serving Size

Lean Only, Trimmed to No Fat

Lean Only, Trimmed to 1/8"Fat

Brisket, flat half
100 gr

1 serving 3oz,85gr

1 lb, 453.6 gr
212 kcal

180 kcal
203 kcal

174 kcal


921 kcal
Chuck or Braising, arm pot roast
100 gr

1 serving
3 oz,85 gr

1 roast (yield from 1528g raw meat) 1095 gr

1 lb, 453.6 gr
212 kcal

180 kcal


2321 kcal
224 kcal

192 kcal






1016 kcal
Chuck or Braising, blade roast
100 gr

1 serving 3oz,85gr
265 kcal

225 kcal



_

Chuck or Braising, clod steak
100 gr

1 serving 3oz,85gr

1 lb, 453.6 gr
193 kcal

164 kcal


853 kcal




_

Flank
100 gr

1 serving 3oz,85gr
237 kcal

201 kcal



_

Round, bottom round or Rump
100 gr

1 serving 3oz,85gr

1 steak (yield from 299gr raw meat) 191 gr

1 lb, 453.6 gr
223 kcal

190 kcal


426 kcal
228 kcal

194 kcal






1034 kcal
Round, top round or Rump
100 gr

1 serving 3oz,85gr
207 kcal

176 kcal



_
Return from Beef Calories to Calories in Meat
Return from Calories in Beef to Lose Weight With Us Home Page

| | |
| --- | --- |
| Like This Page? | Share This Page: |
Back to top