Lose Weight

Calories in Food

Calories in Vegetables

Calories in Garlic
Calories in Garlic,
Garlic Nutrition

How many calories in Garlic? See below, the Garlic calories for the different serving sizes. We provide you with the Garlic nutrition facts and the health benefits of Garlic to help you to lose weight and eat a healthy diet.

Garlic is a member of the onion family. Very low in fat, it provides an excellent source of vitamins and minerals. It's high in thiamine (B1), pantothenic acid (B5), B6, calcium, manganese, iron, phosphorus and zinc.

Garlic has been thought to prevent the build-up of cholesterol, but to date, no studies on humans have actually proven this. It's also regularly reported that it can prevent the common cold, but we don't believe there's been a convincing study to show that either. However, it has been shown to have an anti-bacterial affect and is used as a remedy for infections.
Other Garlic benefits are thought to include the enhanced absorption of thiamine (vitamin B1) which is thought to prevent cardiovascular and neurological diseases (or beriberi).
Below we have a calorie and nutrition table for raw garlic. Compare the nutrition and calories in garlic with the calories in other vegetable varieties.
All our calorie and nutrition data are provided by the US Department of Agriculture.

Enjoy losing weight with our Garlic diet recipes below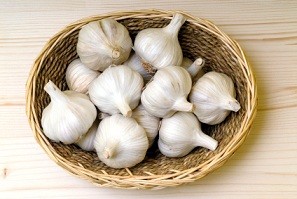 Calories in Garlic, Raw
Refuse:
13% (Knob and skin)
Scientific Name:
Allium sativum
| | |
| --- | --- |
| Serving Size | Calories per Serving |
| 100 grams | 149 kcal (623 kJ) |
| 1 cup, 136 grams | 203 kcal (847 kJ) |
| 1 tsp, 2.8 grams | 4 kcal (17 kJ) |
| 1 clove, 3 grams | 4 kcal (19 kJ) |
| 3 clove, 9 grams | 13 kcal (56 kJ) |

Garlic Nutritional Information

Garlic, Raw
Nutritional value per 100 g (3.5 oz)
Proximates:
Water
58.58 g
Energy
623 kJ (149 kcal)
Carbohydrates
33.06 g
Fiber
2.1 g
Sugars
1.0 g
Total Fat:
0.50 g
Cholesterol
0 mg
Protein
6.36 g
Minerals:
Calcium, Ca
181 mg (18 %)
Iron, Fe
1.70 mg (9 %)
Magnesium, Mg
25 mg (6 %)
Phosphorus, P
153 mg (15 %)
Potassium, K
401 mg (9 %)
Zinc, Zn
1.16 mg (8 %)
Copper, Cu
0.299 mg (15 %)
Manganese, Mn
1.672 mg (84 %)
Selenium, Se
14.2 mcg (20 %)
Vitamins:
Vitamin C
31.2 mg (52 %)
Thiamine (Vit. B1)
0.200 mg (13 %)
Riboflavin (Vit. B2)
0.110 mg (6 %)
Niacin (Vit. B3)
0.700 mg (4 %)
Pantothenic acid (B5)
0.596 mg (6 %)
Vitamin B6
1.235 mg (62 %)
Folate (Vit. B9)
3 mcg (1 %)
Vitamin B12
0 mcg (0 %)
Vitamin A
9 IU (0 %)
Vitamin E
0.08 mg (0 %)
Vitamin K
1.7 mcg (2 %)
Percentages are relative to US Recommended Daily Intake (RDI) for adults.
Source: USDA National Nutrient Database for Standard Reference

Author: Lana Soko
Garlic Recipes

Lemon, Herb and Garlic Roasted Chicken
Delicious oven roasted chicken recipe with lemon, herb and garlic will be a hit with all your family. The recipe is diabetes appropriate, dairy free, gluten free, high in protein, vitamin B-6, niacin, phosphorus and selenium. It is low in carbs, low GI, low in saturated fat.
---

Garlic and Rosemary Roasted Chicken Recipe
A whole roasted chicken with garlic and rosemary is a great sunday roast for a family of four. It is suitable for diabetics and is gluten and dairy free. The dish is low in calories, carbs, saturated fat, sodium and is a good source of vitamin B-6, niacin, phosphorus and selenium.


You Might Also Like:

| | |
| --- | --- |
| Like This Page? | Share This Page: |
Back to top