Calories in Vodka,
Drinks made with Vodka

How many calories in vodka? Vodka calories and drinks made with vodka (i.e. mixers), can be seen in the table below. This information should be used as guideline only and may vary amongst the many different vodka brands.  Also, as you can see from the vodka nutrition facts below, there are no carbohydrates in vodka. In fact, vodka has no nutritional value at all.

The high calorie content in vodka is simply due to the high alcohol content. There are 7 alcohol calories per gram, which makes calories in alcohol second after calories in fat which contains 9 kcal per gram.
Our body metabolizes the calories in alcohol first before burning the fat, which unfortunately makes drinking alcohol completely unsuitable for a diet.
As a lot of people drink vodka shots, in the US and Canada, a single shot is equal to 1.5 fl oz. or 44.36ml. In the United Kingdom, a single shot is 25ml. If you are not in the US, Canada or the UK, see the other countries alcoholic shots drinks sizes.
Compare vodka calories with other alcoholic drinks.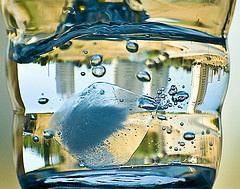 Vodka Calories

Type of Drink

Serving Size

Calories per Serving

Vodka, 80 proof, 40% alcohol volume,
single shot
25 ml, 0.83 fl.oz
56 kcal
Vodka, 80% proof 40% alcohol volume,
double shot
50 ml, 1.66 fl.oz
112 kcal

Drinks made with Vodka

Vodka, 80 proof, 40% alcohol volume
Mixed Drinks Vodka

Serving Size

Calories per Serving

Vodka and Club Soda (Seltzer or Carbonated Water)
vodka 25ml (0.83 fl.oz), soda 150ml (5 fl.oz)
56 kcal
Vodka and Apple Juice
"
125 kcal
Vodka and Orange Juice
"
126 kcal
Vodka and Tomato Juice
"
82 kcal
Vodka and Pineapple Juice
"
379 kcal
Vodka and Sprite, lemon-lime
"
116 kcal
Vodka and Lemon-Lime Soda
"
121 kcal
Vodka and Coke
"
111 kcal
Vodka and Diet Coke
"
61 kcal
Vodka and Tonic Water
"
106 kcal
Vodka and Lemonade
"
386 kcal
Vodka and Diet Lemonade
"
61 kcal
Vodka Martini Cocktails
vodka 90 ml (3 fl.oz),
dry vermouth - splash,
green olive
210 kcal

Vodka Nutrition Facts

Vodka, 80 proof, 40% alcohol volume, single shot (25 ml)
| | |
| --- | --- |
| Calories in Vodka | 56 |
| Carbohydrates | 0 |
| Protein | 0 |
| Fat | 0 |
| Fibre | 0 |
| Vitamins | 0 |
| Alcohol (grams) | 8 |
---
Return from Calories in Vodka to Lose Weight With Us Home Page

| | |
| --- | --- |
| Like This Page? | Share This Page: |
Back to top