Cherry Nutrition Facts,
Health Benefits of Cherries

All about cherry nutrition, cherry benefits, cherry juice health benefits, calories in cherries, cherry nutrients
There are many varieties of cherries, with varying shades of red and yellow. They are very low in fat, and contain no cholesterol, with just 63 calories per serving (100g or 3.5oz).

The US Department of Agriculture (USDA) rates them highly on their ORAC table (a measure of a food's antioxidant capacity), although below blackberries, blueberries and cranberries. Fresh cherries or cherry juice rate the best, whilst dried cherries are also very good. This makes them an ideal fruit to use as a snack, replacing those fat inducing salty or sugary snacks. Note that the nutrition value of canned or frozen cherries is a lot less.

The red color or pigment from cherries are from anthocyanins which are powerful antioxidants. These are thought to help protect against cancer, diabetes, and act as an anti-inflammatory. Research, although not on humans, has shown they can restrict weight gain, lower cholesterol and help to protect against heart disease. They have also been shown to reduce the pain from arthritis.

A serving of Cherries contains 12% of our daily recommended intake of vitamin C and traces of melatonin which is thought to help reduce the incidence of Alzheimer's.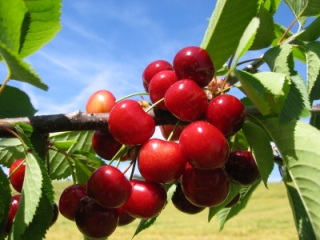 If you are pregnant, cherries should be ok to eat, we have come across no reports that suggest otherwise.

Note that the stones in cherries are toxic. Swallowing one or two shouldn't be harmful, but don't make a habit of it, and certainly do not chew the stone.
Compare cherry nutrition facts to the other fruits.

Nutritional Value of Cherries
Cherries, Sweet, Raw
Cherry nutritional value per 100 g (3.5 oz)
Refuse: 8% (Pits and stems)
Scientific Name: Prunus avium
Proximates:
Water
82.25 g
Energy
263 kJ (63 kcal)
Protein
1.06 g
Carbohydrates
16.01 g
Total Fat:
0.20 g
Fiber
2.1 g
Cholesterol
0 mg
Minerals:
Calcium, Ca
13 mg (1 %)
Iron, Fe
0.36 mg (2 %)
Magnesium, Mg
11 mg (3 %)
Phosphorus, P
21 mg (2 %)
Potassium, K
222 mg (5 %)
Sodium, Na
0 mg
Zinc, Zn
0.07 mg (0.5 %)
Copper, Cu
0.060 mg (3 %)
Manganese, Mn
0.070 mg (4 %)
Selenium, Se
0 mcg
Vitamins:
Vitamin C
7.0 mg (12 %)
Thiamine (Vit. B1)
0.027 mg (2 %)
Riboflavin (Vit. B2)
0.033 mg (2 %)
Niacin (Vit. B3)
0.154 mg (1 %)
Pantothenic acid (B5)
0.199 mg (2 %)
Vitamin B6
0.049 mg (2 %)
Folate (Vit. B9)
4 mcg (1 %)
Vitamin A
64 IU (1.3 %)
Vitamin E
0.07 mg (0.4 %)
Vitamin K
2.1 mcg (3 %)
Percentages are relative to US Recommended Daily Intake (RDI) for adults.
Source: USDA National Nutrient Database for Standard Reference
Author: Lana Soko
You Might Also Like:

| | |
| --- | --- |
| Like This Page? | Share This Page: |
Back to top