Broccoli Nutrition Facts,
Health Benefits of Broccoli
We provide you with lots of information about Broccoli nutrition.. Broccoli is an ideal food to include in our diet as it has cholesterol lowering abilities, detoxifies our body and is even considered a cancer prevention food. Broccoli belongs to the cabbage family and is known as a cruciferous vegetable. Cruciferous vegetables such as broccoli, cabbage, cauliflower, kale and brussels sprouts are a must have food, and should be eaten 3 – 5 servings a week (1 serving = 1 cup) as they significantly lower rates of cancer.
The phytonutrients (indoles and sulforaphanes) in broccoli stimulate the production of enzymes which are responsible for detoxification and elimination of free radicals, toxins and harmful carcinogens from our body.

Research has shown that people who are eating the most cruciferous vegetables have a much lower risk of colon, bladder, breast, ovarian, prostate and lung cancer compared to those eating other vegetables regularly. Regular consumption of cruciferous vegetables by smokers lowers the risk of lung cancer by as much as 69%, in non smokers by 30%.

One of the nutritional benefits of raw broccoli is in improving stomach health. There are almost 50% of Americans infected with Helicobacter pylori (H. pylori) bacterium, which is the primary cause of ulcers. So, if you are infected – eat more uncooked broccoli and broccoli sprouts – broccoli eliminates H. pylori infection and helps in stomach cancer prevention. Try a delicious raw broccoli soup recipe -details on how to make near the bottom of this page.

The prevention of skin cancer: An active compound, sulforaphane, found in broccoli, can help to repair sun-damaged skin. So, broccoli allows us to enjoy the sun without increasing the risk of skin cancer, just don't overdo the sunbathing.

Broccoli health benefits also include reducing the risk of heart disease and cataract prevention.

Broccoli contains calcium and vitamin C which improves calcium absorption, and is an important source of calcium for people who do not consume dairy products, although calcium levels are not as high as milk. A 100g serving of broccoli provides nearly double the amount of vitamin C than 100g of orange juice.

Broccoli is a rich source of folic acid which is a crucial component in the prevention of birth defects. Organically grown broccoli contains higher levels of phytonutrients than non organic. Research has shown that broccoli sprouts contain 10-100 times the power of mature broccoli.

Broccoli is a great vegetable as part of your weight loss diet. In one cup, there are just 30 calories in broccoli. All of our calorie and nutrition data is provided by the US Department of Agriculture.

Steam broccoli to get the most from the nutritional benefits. In the table below, we've compared the nutrient quality of raw versus cooked broccoli. Note that the concentration of vitamin C is reduced when broccoli is cooked as it's a water soluble vitamin. It's always best to steam vegetables rather than boil.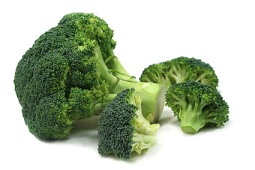 Nutritional Value of Broccoli
Broccoli Nutrition Facts
Broccoli nutritional value per 100 g (3.5 oz)
Scientific Name: Brassica oleracea (Botrytis Group)
Proximates:
Nutrient
Broccoli,raw
Broccoli, cooked,
boiled, drained,
without salt
Water
89.30 g
89.25 g
Energy
141 kJ(34 kcal)
146 kJ (35 kcal)
Protein
2.82 g
2.38 g
Carbohydrates
6.64 g
7.18 g
Total Fat:
0.37 g
0.41 g
Fiber
2.6 g
3.3 g
Cholesterol
0 mg
0 g
Minerals:
Calcium, Ca
47 mg (4.7%)
40 mg (4%)
Iron, Fe
0.73 mg (4%)
0.67 mg (3.7%)
Magnesium, Mg
21 mg (5%)
21 mg (5%)
Phosphorus, P
66 mg (7%)
67 mg (7%)
Potassium, K
316 mg (7%)
293 mg (6.2%)
Sodium, Na
33 mg (1.4%)
41 mg (2%)
Zinc, Zn
0.41 mg (3%)
0.45 mg (3%)
Copper, Cu
0.049 mg (2%)
0.061 mg (3%)
Manganese, Mn
0.210 mg(11%)
0.194 mg (10%)
Selenium, Se
2.5 mcg (4%)
1.6 mcg (2%)
Vitamins:
Vitamin C
89.2 mg (149%)
40 mg (67%)
Thiamine (Vit. B1)
0.071 mg (5%)
0.063 mg (4%)
Riboflavin (Vit. B2)
0.117 mg (7%)
0.123 mg (7%)
Niacin (Vit. B3)
0.639 mg (3%)
0.553 mg (3%)
Pantothenic acid (B5)
0.573 mg (6%)
0.616 mg (6.2%)
Vitamin B6
0.175 mg (9%)
0.200 mg (10%)
Folate (Vit. B9)
63 mcg (16%)
108 mcg (27%)
Vitamin A
660 IU (13%)
1967 IU (39%)
Vitamin E
0.78 mg (4%)
1.45 mg (7%)
Vitamin K
101.6 mcg(127%)
141.1 mcg (176%)
Percentages are relative to
US Recommended Daily Intake (RDI) for adults.
Source: USDA National Nutrient Database for Standard Reference
Broccoli Soup Recipe
Ingredients:
6 broccoli flowerets,
1 tomato,
1/4 cucumber,
1/4 green bell pepper,
1 tbsp. of white onion,
1/4 tsp. oregano
How to prepare:
Chop all the ingredients and blend. For a delicious gazpacho, simply chill in the fridge, otherwise gently heat through. Add seasoning to taste.
Option:
You may wish to add a carrot and a small amount of spinach to increase beta-carotene content.
---
Return from Broccoli Nutrition Facts to Vegetable Nutrition Facts
Return from Broccoli Nutrition Facts to Lose Weight With Us Home Page

| | |
| --- | --- |
| Like This Page? | Share This Page: |
Back to top