Jackfruit Nutrition Facts,
Health Benefits of Jackfruit

All about jackfruit nutrition facts, jackfruit benefits, nutritional benefits of jackfruit, calories in jackfruit

The jackfruit is a very large fruit, and is surprisingly part of the Mulberry family. It's native to Asia, and can be either green or yellow. The jackfruit is probably the largest fruit we've come across, growing up to three feet long and more than eighteen inches wide.

Once the fruit is cracked open, several large 'bulbs' are revealed with a creamy orange flesh. Inside the bulb is a large seed, about the size of a chestnut. The seed can only be eaten if it is cooked first. The fruit is often seen in market stalls where the bulbs are individually sold.

Once the fruit is ripe, it goes off very quickly, although they can be used in cooking before they reach maturity.

Below we show the US Department of Agriculture's (USDA) nutrition for one serving (100g or 3.5oz) of a raw jackfruit. It provides a good source of vitamin C, with approx. 23% of our recommended daily intake (RDI), and also vitamin B6. It also contains other vitamins and minerals with a modest amount of potassium, magnesium and thiamine (vitamin B1).

Given the presence of phytonutrients and antioxidants, the fruit is believed to be good for lowering our blood pressure, inhibiting the growth of cancer cells, slowing down the aging process and giving us energy due to the high content of carbohydrates (approx. 23%) of the edible fruit.
Compare jackfruit nutrition facts to the other fruits.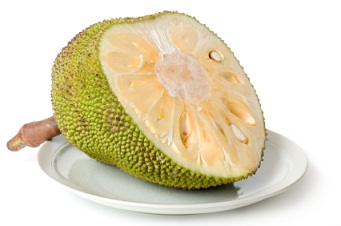 Nutritional Value of Jackfruit
Jackfruit, Raw
Jackfruit nutritional value per 100 g (3.5 oz)
Refuse: 72% (Seeds and skin)
Scientific Name: Artocarpus heterophyllus
Proximates:
Water
73.46 g
Energy
397 kJ (95 kcal)
Protein
1.72 g
Carbohydrates
23.25 g
Total Fat:
0.64 g
Fiber
1.5 g
Cholesterol
0 mg
Minerals:
Calcium, Ca
24 mg (2.4 %)
Iron, Fe
0.23 mg (1.3 %)
Magnesium, Mg
29 mg (7 %)
Phosphorus, P
21 mg (2 %)
Potassium, K
448 mg (10 %)
Sodium, Na
2 mg (0.1 %)
Zinc, Zn
0.13 mg (1 %)
Copper, Cu
0.076 mg (4 %)
Manganese, Mn
0.043 mg (2 %)
Vitamins:
Vitamin C
13.7 mg (23 %)
Thiamine (Vit. B1)
0.105 mg (7 %)
Riboflavin (Vit. B2)
0.055 mg (3 %)
Niacin (Vit. B3)
0.920 mg (5 %)
Pantothenic acid (B5)
0.235 mg (2 %)
Vitamin B6
0.329 mg (16 %)
Folate (Vit. B9)
24 mcg (6 %)
Vitamin A
110 IU (2 %)
Vitamin E
0.34 mg (2 %)
Percentages are relative to US Recommended Daily Intake (RDI) for adults.
Source: USDA National Nutrient Database for Standard Reference
Author: Lana Soko
You Might Also Like:

| | |
| --- | --- |
| Like This Page? | Share This Page: |
Back to top