Kumquat Nutrition Facts,
Health Benefits of Kumquat

All about kumquat nutrition, calories in kumquat, nutritional benefits of kumquat, kumquat and weight loss
There are several varieties of kumquats, which originates from Asia. Dependant on variety, they are oval or round with a vivid orange color. They are a citrus fruit, but unlike their other relatives, the entire fruit can be eaten, including the skin. They are also sweet to taste.

They are very low in calories, approx. 71 calories per serving (100g or 3.5oz), are very low in fat and contain no cholesterol. They are ideal as a snack as part of your weight loss plan.

Like other citrus fruits they are bursting with vitamin C, containing 73% of our recommended daily intake (RDI). Vitamin C is an antioxidant providing numerous health benefits, including protecting us against colds and flu, and inhibiting cancer activity. The skin or rind of the kumquat contains liminoids which are phytochemicals. They are also found in other citrus fruit, but with the kumquat, as we can eat the skin, we can enjoy their health benefit too which is thought to help protect against cancer. In addition the US Department of Agriculture (USDA) is currently researching the impact liminoids have on cholesterol.

In addition to other vitamins and minerals, the kumquat contains modest amounts of vitamin A, and B2 (riboflavin), and manganese. Riboflavin metabolises fats.

Wash the fruit thoroughly before eating to remove any chemical residue. The juicy little kumquats will stay fresh in the refrigerator for about two weeks. Some experts claim they should be rolled in the hand to release their oils, and to improve their flavour, before eating.

We understand that if you are on the drug Tamoxifen, then you should not eat this fruit as it could interfere with the drug.

Compare kumquat nutrition facts to the other fruits.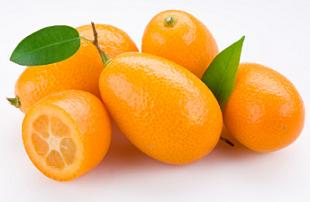 Nutritional Value of Kumquats
Kumquats, Raw
Kumquat nutritional value per 100 g (3.5 oz)
Refuse: 7% (Seeds)
Scientific Name: Fortunella spp.
Proximates:
Water
80.85 g
Energy
296 kJ (71 kcal)
Protein
1.88 g
Carbohydrates
15.90 g
Total Fat:
0.86 g
Fiber
6.5 g
Cholesterol
0 mg
Minerals:
Calcium, Ca
62 mg (6 %)
Iron, Fe
0.86 mg (5 %)
Magnesium, Mg
20 mg (5 %)
Phosphorus, P
19 mg (2 %)
Potassium, K
186 mg (4 %)
Sodium, Na
10 mg (0.4 %)
Zinc, Zn
0.17 mg (1 %)
Copper, Cu
0.095 mg (5 %)
Manganese, Mn
0.135 mg (7 %)
Selenium, Se
0.0 mcg
Vitamins:
Vitamin C
43.9 mg (73 %)
Thiamine (Vit. B1)
0.037 mg (2.5 %)
Riboflavin (Vit. B2)
0.090 mg (5 %)
Niacin (Vit. B3)
0.429 mg (2 %)
Pantothenic acid (B5)
0.208 mg (2 %)
Vitamin B6
0.036 mg (2 %)
Folate (Vit. B9)
17 mcg (4 %)
Vitamin A
290 IU (6 %)
Vitamin E
0.15 mg (1 %)
Percentages are relative to US Recommended Daily Intake (RDI) for adults.
Source: USDA National Nutrient Database for Standard Reference
Author: Lana Soko
You Might Also Like:

| | |
| --- | --- |
| Like This Page? | Share This Page: |
Back to top