Mediterranean Food Diet

All about the Mediterranean food diet, sample of the Mediterranean diet menu, Mediterranean food pyramid and easy recipes for the Mediterranean diet.

What is The Mediterranean Diet?

The Mediterranean area covers a vast part of Europe, North Africa and the Middle East including the southern shore of France, Spain, Italy, Greece, Turkey, Malta, Cyprus, and the northern shores of Morocco, Algeria, Tunisia, Libya, Egypt, and in the Middle East, the eastern shores of Lebanon and Israel.

The area brings back memories of lazy holidays, gorgeous sunsets, fantastic food and wine and pretty villages filled with trees full of olives, oranges, almonds and many other treats.

It's generally considered that people who live in the Mediterranean region live a healthier and longer life and their diet is thought to play a major part in this. Incidence of cancer, heart disease, diabetes, alzheimer's and even obesity tends to be a lot less than countries such as America and the United Kingdom. This is because their diet includes lots of brightly colored vegetables, fruit, and fish. They eat a lot less meat. We can all achieve a low fat Mediterranean diet. However, they also eat a lot of cheese and bacon, and that needs to be eaten sparingly or avoided if you are looking to lose weight.

Mediterranean Diet Foods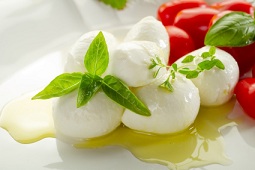 Olive oil is used when food is fried or sautéed, it's high in monounsaturated fat, but still contains some saturated fat so use carefully. Some of the food types commonly grown (or caught) and eaten in this region include the following Mediterranean foods:

Vegetables such as asparagus, aubergine, zucchini (courgette), garlic, globe artichoke, tomatoes, onions, lettuce and other salad vegetables.

Fruits and Nuts such as dates, figs, grapes, lemons, oranges, limes, melon, peaches, almonds, pine nuts, pistachios.

Fish and Seafood such as sardines, mullet, crab, prawns, mussels.

Grains and Pulses such as rice, pasta, beans, peas, couscous, etc. 

Lots of herbs are also used for flavoring including basil (which goes wonderfully with tomatoes), bay leaves for casseroles, coriander for a bit of spice, parsley, rosemary and thyme.


The Mediterranean Diet Food Pyramid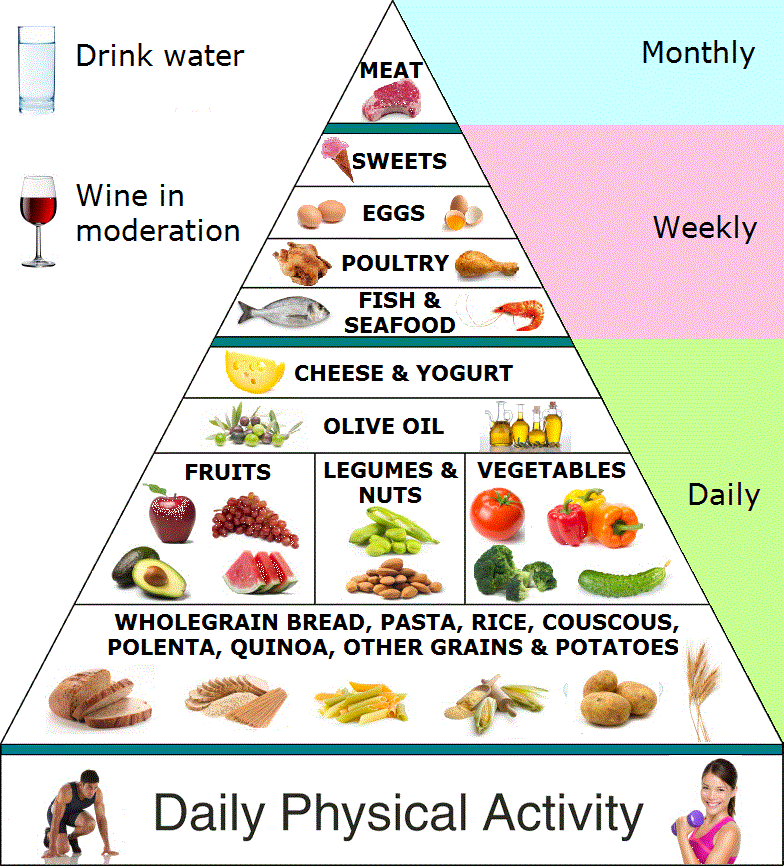 The Mediterranean food pyramid and guidelines include:
Physically active life style;
High intake of fiber rich cereals and unrefined grains;

High intake of fruits, vegetables, legumes (beans, lentils, chickpeas, etc);

High olive oil intake;

Moderate to high intake of fish and seafood;

Moderate dairy products intake, generally cheese and yogurt;
Moderate wine consumption;

Low meat and meat products intake.              

25 to 35% of calories should come from good fats, with only 8% or less calories from saturated fat. The Mediterranean diet benefits from high dietary fiber, mono and polyunsaturated fats and low saturated fat.
Does the Mediterranean Food Diet Work?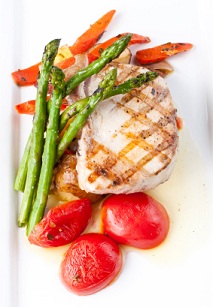 There is plenty of research to back up the fact that the Mediterranean people who follow a classic Mediterranean food diet live longer. What's interesting is that their fat intake is high, but it's primarily from olive oil. All of the food is fresh, nothing is processed. We have found no research at all, unusual for a diet, that says its does not work.

Back in 1995, research published in the British Medical Journal concluded that Greeks were living longer given their high consumption of vegetables and olive oil. Those who ate an above average amount of meat were living less.

In 1998, the Harvard School of Public Health was recommending people swap trans fats (bad fat) for olive oil (considered a good fat).

In 2006 the National Institute of Health published an article concluding that if combined with no cigarette smoking and a reasonable amount of exercise, nearly all cases of type 2 diabetes and more than three quarters of heart disease cases would not occur if a Mediterranean food diet was followed. Isn't that enough to change your diet?

In 2012, a four year study in Spain with 11,000 participants concluded that a Mediterranean food diet provides a superior mental and physical well-being.


Example Mediterranean Meal Plan
Breakfast
Fish and vegetable Frittata (for four people):
1tbsp olive oil;
1 Zucchini or courgette, sliced or chopped;
1 red bell pepper, chopped. Remove all seeds.
1 white or red onion, finely chopped;
2 tbsp skim milk;
2 tsp dried mixed herbs;
½ cup low fat cheddar cheese, grated;
Small can of tuna, drained. (Drained weight approx. 130g/4.5 oz);
Seasoning to taste;

Serve the Frittata with a small green salad, drizzled with a small amount of olive oil.


Lunch
Minestrone Soup (for four people):
1 white or red onion, finely chopped;
450g/1lb Fresh tomatoes, peeled and chopped;
450g/1lb Zucchini or courgette, chopped;
1 tbsp sun-dried tomato paste;
3 medium potatoes, chopped;
2 tsp olive oil;
Garlic and seasoning to taste;
1-1.5L or approx. 2 pints of good quality vegetable stock. Add more during cooking if required.

Once served, grate some fresh parmesan cheese, and tear up a few fresh basil leaves.

Dinner
Chicken Italian Style (for four people):
8 chicken thighs, remove the skin;
1 red bell pepper, chopped. Seeds removed;
400g/14oz tin of chopped tomatoes;
2 garlic cloves, peeled and crushed;
100ml/½  cup dry white wine;
300g/11oz cannellini beans, drained;
1 tsp olive oil.
Fresh or dried oregano. 1tsp dried or 1 sprig if fresh.
Seasoning to taste.

Take a look at the popular Mediterranean diet books below for more meal plans and simple Mediterranean diet recipes.


Mediterranean Food Diet Books
| | |
| --- | --- |
| Like This Page? | Share This Page: |
Back to top