Nectarine Nutrition Facts,
Health Benefits of Nectarines

All about nectarine nutrition facts, nutritional benefits of nectarine, calories in a nectarine, nectarine and weight loss

Nectarines are effectively a smooth skinned peach and sold either 'freestone' or 'clingstone', meaning either the flesh comes away from the stone or it clings to it. The flesh is normally orange, but red and white varieties are available. They are very juicy and sweet.

As with most fruit, the nectarine is very low in calories, just 44 calories per serving (100g or 3.5oz). Eat two of them and you've still had less than 100 calories. They are very low in fat and contain no cholesterol, so are ideal as a healthy snack or dessert.

Nectarines contain modest amounts of vitamins A, B3 (niacin) and C. Along with other vitamins and minerals, they are thought to improve digestion, vision, boost immunity and give you an energy boost. Additionally, they act as a diuretic and help with blood circulation.

Nectarines bruise very easily, so choose carefully when buying. After purchasing, nectarines will continue to ripen until they are soft, juicy and ready to eat, no peeling required. Note that once the nectarine is cut, the flesh will start to discolour, so eat up quickly. The stone should be thrown away. Remember to wash thoroughly to remove any chemical residue.
Compare nectarine nutrition facts to the other fruits.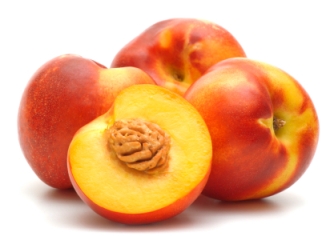 Nectarine Nutrition Information
Nectarines, Raw
Nectarine nutritional value per 100 g (3.5 oz)
Refuse: 9% (Pit)
Scientific Name: Prunus persica var. nucipersica
Proximates:
Water
87.59 g
Energy
185 kJ (44 kcal)
Protein
1.06 g
Carbohydrates
10.55 g
Total Fat:
0.32 g
Fiber
1.7 g
Cholesterol
0 mg
Minerals:
Calcium, Ca
6 mg (0.6 %)
Iron, Fe
0.28 mg (2 %)
Magnesium, Mg
9 mg (2 %)
Phosphorus, P
26 mg (3 %)
Potassium, K
201 mg (4 %)
Sodium, Na
0 mg
Zinc, Zn
0.17 mg (1 %)
Copper, Cu
0.086 mg (4 %)
Manganese, Mn
0.054 mg (3 %)
Selenium, Se
0 mcg
Vitamins:
Vitamin C
5.4 mg (9 %)
Thiamine (Vit. B1)
0.034 mg (2 %)
Riboflavin (Vit. B2)
0.027 mg (1.6 %)
Niacin (Vit. B3)
1.125 mg (6 %)
Pantothenic acid (B5)
0.185 mg (2 %)
Vitamin B6
0.025 mg (1 %)
Folate (Vit. B9)
5 mcg (1 %)
Vitamin A
332 IU (7 %)
Vitamin E
0.77 mg (4 %)
Vitamin K
2.2 mcg (3 %)
Percentages are relative to US Recommended Daily Intake (RDI) for adults.
Source: USDA National Nutrient Database for Standard Reference
Author: Lana Soko
You Might Also Like:

| | |
| --- | --- |
| Like This Page? | Share This Page: |
Back to top