The Ultimate New York Body Plan

The Ultimate New York Body Plan is the fast weight loss 14 day diet and fitness plan by David Kirsch, fitness guru of the US Extreme Makeover TV show. The book was originally put together as part of the US Extreme Makeover television programme and was written in 2005. If you have no interest in exercising as part of your weight loss program, then this book is not for you.
David Kirsch is a fitness expert and founded the Madison Square Club on Fifth Avenue in New York. As part of the television program, David worked with four ladies of differing age, build and fitness level. One lady wanted to put on weight but all wanted a better looking body. One of the ladies dropped four dress sizes and thirty pounds. Another lady lost ten pounds in weight but 21 pounds of fat. And the lady who wanted to put on weight, well she gained six pounds in muscle, but lost eight pounds of body fat.
The Ultimate New York Body Plan Elements
The plan has three elements: ultimate fitness, ultimate nutrition and ultimate maintenance.
For the ultimate fitness, the book contains two exercise programs, one for those who are used to exercise, and another for those who are not. It starts with a fitness test to check which program you should follow. You will either need access or to purchase dumbbells, medicine and stability balls. The book contains photos that explain the exercises you need to undertake.
Ultimate nutrition is a 14 day eating plan. However, there is a nutrition test and depending how you answer it may suggest you follow a pre nutrition program first. Certain foods you may be used to are banned, for example: bread, simple carbs, sweets, unhealthy fats, alcohol and fruit. David recommends you take additional supplements.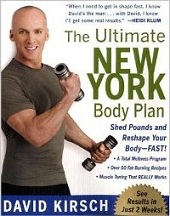 The section on ultimate motivation is there to help you through the 14 days, so you don't give up or go astray.
At the end of the 14 days, ultimate maintenance explains how not to undo all the hard work you have been through. It tells you how you can introduce back some of your favourite foods.
This is a tough 14 day plan, but if you're prepared to invest in the equipment and are determined to see it through and have a leaner and more toned body, then it may be for you. It needs a lot of commitment.
Before embarking on this plan, we recommend you visit a physician.
The Ultimate New York Body Plan can be purchased at discounted price from Amazon.
Author: Lana Soko
Return from the Ultimate New York Body Plan to Fat Burning Diets

| | |
| --- | --- |
| Like This Page? | Share This Page: |
Back to top