Lose Weight

Calories in Food

Calories in Vegetables

Calories in Wasabi
Calories in Wasabi Root,
Wasabi Nutrition

How many calories in Wasabi? See below, the Wasabi calories for the different serving sizes. We provide you with the Wasabi nutrition facts and the health benefits of Wasabi to help you to lose weight and eat a healthy diet.

Wasabi or Japanese Horseradish is extremely spicy. It contains many vitamins and minerals including vitamins A, Beta-Carotene, B1-B3, B5, B6, folate or B9, C, calcium and phosphorus. It's an excellent source of potassium.
The Wasabi Root is thought to have anti-inflammatory benefits and also helps to protect against some cancers. Other Wasabi benefits are believed to include a reduction in the risk of heart disease and strokes.
Below we have a calorie and nutrition table for this vegetable. See our vegetable calories comparison chart to compare the calories in Wasabi with the calories in other vegetables.
Also, have a look how nutritious Wasabi is in comparison to the other vegetable nutrition facts.
All of our calorie and nutrition data is provided by the US Department of Agriculture.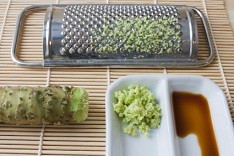 Wasabi, Root, Raw

Refuse:
23% (Peel)
Scientific Name:
Wasabia japonica
| | |
| --- | --- |
| Serving Size | Calories per Serving |
| 100 grams | 109 kcal (456 kJ) |
| 1 cup, sliced, 130 grams | 142 kcal (593 kJ) |
| 1 root, 169 grams | 184 kcal (771 kJ) |
Wasabi Nutritional Information
Wasabi, Root, Raw (Edible Parts)
Nutritional value per 100 g (3.5 oz)
Energy
456 kJ (109 kcal)
Carbohydrates
23.54 g
Dietary fiber
7.8 g
Fat
0.63 g
Protein
4.80 g
Thiamine (Vit. B1)
0.131 mg (9%)
Riboflavin (Vit. B2)
0.114 mg (7%)
Niacin (Vit. B3)
0.743 mg (4%)
Pantothenic acid (B5)
0.203 mg (2%)
Vitamin B6
0.274 mg (14%)
Folate (Vit. B9)
18 mcg (4.5%)
Vitamin C
41.9 mg (70%)
Calcium
128 mg (13%)
Iron
1.03 mg (6%)
Magnesium
69 mg (17%)
Phosphorus
80 mg (8%)
Potassium
568 mg (12%)
Zinc
1.62 mg (11%)
Percentages are relative to US Recommended Daily Intake (RDI) for adults.
Source: USDA National Nutrient Database for Standard Reference

Author: Lana Soko
You Might Also Like:

| | |
| --- | --- |
| Like This Page? | Share This Page: |
Back to top