Watermelon Nutrition Facts, Health Benefits of Watermelon

All about watermelon nutrition facts, calories in watermelon, nutritional benefits of watermelon

There are many varieties of watermelon, some seedless, some with yellow flesh, but the most popular variety sold are oval shaped, with a fantastic red flesh and black seeds.

The seeds of a watermelon can be eaten. They are full of protein. Additionally they contain a chemical, cucurbocitrin, where research has shown lowers your blood pressure.

However, if the seeds are simply swallowed your body is unlikely to benefit from their nutrients. They need to be chewed. Why not put them to one side and roast them, then eat as a snack.
Watermelons are 91% water, have almost no fat and contain no cholesterol, so great as a thirst quencher with just 30 calories per serving (100g or 3.5oz).The sugar content is half that of an apple, which is surprising given it tastes so sweet.

The watermelon contains a good source of vitamins A and C providing 11% and 14% respectively of our recommended daily intake (RDI). It also provides a good source of lycopene and is good for our vision.

When choosing a watermelon, look at the underside where it would have been growing and resting on the ground. A ripe watermelon will be yellow, whilst an unripe one will be white. If you are able to, pick up a few and choose the heaviest.
Compare watermelon nutrition facts to the other fruits.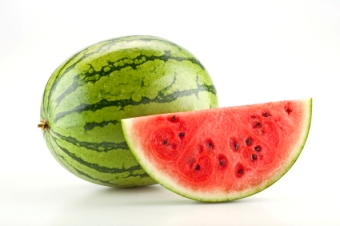 Nutritional Value of Watermelon
Watermelon, Raw
Watermelon nutritional value per 100 g (3.5 oz)
Scientific Name: Citrullus lanatus
Proximates:
Water
91.45 g
Energy
127 kJ (30 kcal)
Protein
0.61 g
Carbohydrates
7.55 g
Total Fat:
0.15 g
Fiber
0.4 g
Cholesterol
0 mg
Minerals:
Calcium, Ca
7 mg (0.7 %)
Iron, Fe
0.24 mg (1.3 %)
Magnesium, Mg
10 mg (3 %)
Phosphorus, P
11 mg (1 %)
Potassium, K
112 mg (2 %)
Sodium, Na
1 mg (0.04 %)
Zinc, Zn
0.10 mg (0.6 %)
Copper, Cu
0.042 mg (2 %)
Manganese, Mn
0.038 mg (2 %)
Selenium, Se
0.4 mcg (0.6 %)
Vitamins:
Vitamin C
8.1 mg (14 %)
Thiamine (Vit. B1)
0.033 mg (2 %)
Riboflavin (Vit. B2)
0.021 mg (1.2 %)
Niacin (Vit. B3)
0.178 mg (1 %)
Pantothenic acid (B5)
0.221 mg (2 %)
Vitamin B6
0.045 mg (2 %)
Folate (Vit. B9)
3 mcg (1 %)
Vitamin A
569 IU (11 %)
Vitamin E
0.05 mg (0.3 %)
Vitamin K
0.1 mcg (0.1 %)
Percentages are relative to US Recommended Daily Intake (RDI) for adults.
Source: USDA National Nutrient Database for Standard Reference
You Might Also Like:

| | |
| --- | --- |
| Like This Page? | Share This Page: |
Back to top