Weight Watchers Diet Plan

The Weight Watchers diet plan is without doubt a huge success story for the millions of people it has helped to lose weight. The company was formed way back in 1963 by a lady, Jean Nidetech, following her success at losing weight. She needed a support framework to help her stick to her weight loss goals, so she formed a community of likewise people so they could motivate each other. That's what the Weight Watchers diet plan is about.

Weightwatchers today provides food and exercise plans, advice on healthy eating, and the support of others necessary to help you to achieve your goals along with a Weight Watchers points guide and a food point's calculator.
So What Does The Weight Watchers Diet Plan Cost?


There are two main options, either the online option (i.e. web site, app for your iPhone/iPad), or the face to face meetings together with the online resources.

We believe that if you are seriously interested in joining Weight Watchers to lose weight, then you should go along to the meetings. Of course if you live in a country with no meetings then the online membership may make sense.
There are a number of joining options, which at first glance look complicated. In the United States, they offer a Monthly Pass option for $42.95 per month which allows you to go to the meetings. In the UK this costs £14.95 for the first month followed by £19.99. The UK also offers the first meeting for free which is a great way to go along, find out how everything works and meet people in your local area also looking to lose weight. The US offers other membership options including a 17 week pass for $209, and a pay as you go option for $14 weekly plus a $1 registration. The UK offers a 3 month online plan costing £32.85 for the first month, then £10.95 for each subsequent month. In the US the online version costs $57.85 for the first 3 months followed by $18.95 per month.

Given the number of membership options, we'd recommend giving Weight Watchers a call to ensure you get the best deal that is available at the time.


Is Weight Watchers Worth It?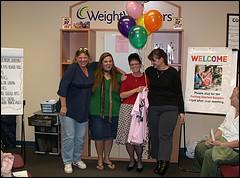 Well, it's not cheap is it? If you can certainly get to the first meeting for free without making any financial commitments then it's a great way to ensure you make the right decision. Maybe take a friend and see if you can make your weight loss journey together. You know how much weight you have to lose – if you allow a realistic one to two pounds a week of weight loss to achieve your target goal how long will that take. Now multiply that by the monthly membership cost. If you're comfortable with that then give it some serious thought. If it's too expensive, then buying a book with Weight Watchers points list and Weight Watchers recipes might be a good idea. Take a look at the Weight Watchers cookbooks and points books below.  Also, there are lots of other free resources here on this web site to help you.
Want to Learn More?

| | |
| --- | --- |
| Like This Page? | Share This Page: |
Back to top