Calories in Beet Greens
How many calories in Beet Greens? See below, the Beet Greens calories for the different serving sizes to help you to formulate your own diet plan to lose weight and eat a healthy diet.
All our data is provided by the US Department of Agriculture. We have included calorie information for both raw and cooked beet greens using standard serving sizes.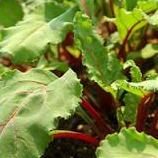 See our
vegetable calories comparison chart
to compare Beetroot Greens calories with the other calories in vegetables. Also, have a look how
nutritious Beet Greens
are in comparison to the other
vegetable nutrition facts.
Beet greens, raw
Refuse:
44% (Stems, bruised and old leaves)
Scientific Name:
Beta vulgaris
| | |
| --- | --- |
| Serving Size | Calories per Serving |
| 100 grams | 22 kcal (92 kJ) |
| 1 cup, 38 grams | 8 kcal (35 kJ) |
| 1 leaf, 32 grams | 7 kcal (29 kJ) |
| 0.5 cup (1" pieces), 19 grams | 4 kcal (17 kJ) |
Beet greens, cooked, boiled, drained, without salt
Refuse:
0%
| | |
| --- | --- |
| Serving Size | Calories per Serving |
| 100 grams | 27 kcal (115 kJ) |
| 1 cup (1" pieces), 144 grams | 39 kcal (166 kJ) |
| 0.5 cup (1" pieces), 72 grams | 19 kcal (83 kJ) |
Beet greens, cooked, boiled, drained, with salt
Refuse:
0%
| | |
| --- | --- |
| Serving Size | Calories per Serving |
| 100 grams | 27 kcal (113 kJ) |
| 1 cup (1" pieces), 144 grams | 39 kcal (163 kJ) |
Source:
USDA National Nutrient Database for Standard Reference
Return from Beet Greens Calories to Calories in Vegetables

| | |
| --- | --- |
| Like This Page? | Share This Page: |
Back to top