Beet Greens Nutrition Facts
Health Benefits of Beet Greens
Want to know about Beet Greens nutrition and what to do with them? So just to be clear, we are talking about the green leaves grown above ground rather than the beetroot. Yes those green leaves with fantastic purple veins running through them are edible and incredibly nutritious.

Beet greens are very low in calories, just 22 calories per serving (100g or 3.5oz) if eaten fresh. They contain very little fat and no cholesterol, so you should consider including them as part of your weight loss plan.
In the tables below we've compared the nutrient values of both fresh and cooked. Beet greens are bursting with nutrients, with one serving providing five times the recommended daily intake (RDI) of vitamin K, and more than the RDI for vitamin A. They are also an excellent source of vitamin C, manganese, iron, calcium, protein, fiber and other vitamins and minerals, and should be considered an essential addition to maintaining a healthy heart.

Whereas most brightly colored vegetables contain anthocyanins, beets contain a pigment called betalain, hence the purple color. This pigment is believed to have anti-cancer properties.

When preparing them to eat, cut away the stems as they can be woody and rinse a couple of times to thoroughly remove any dirt. You can throw them onto a salad or if cooking beet greens, one recipe suggestion is to fry in a little olive oil some garlic and onions, tear the beet greens and throw them in and sautee for just two to three minutes, delicious.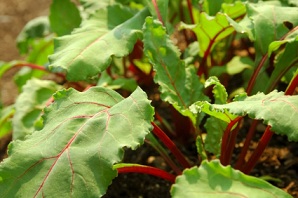 Beet Greens Nutrition Table

Beet Greens Nutrition
Beet greens nutritional value per 100 g (3.5 oz)
Scientific Name: Beta vulgaris
Proximates:
Nutrient
Beet greens,raw
Beet greens,
cooked, boiled,
drained, without salt
Water
91.02 g
89.13 g
Energy
92 kJ (22 kcal)
113 kJ (27 kcal)
Protein
2.20 g
2.57 g
Carbohydrates
4.33 g
5.46 g
Total Fat:
0.13 g
0.20 g
Fiber
3.7 g
2.9 g
Sugars, total
0.50 g
0.60 g
Cholesterol
0 mg
0 g
Minerals:
Calcium, Ca
117 mg (12%)
114 mg (11%)
Iron, Fe
2.57 mg (14%)
1.90 mg (11%)
Magnesium, Mg
70 mg (18%)
68 mg (17%)
Phosphorus, P
41 mg (4%)
41 mg (4%)
Potassium, K
762 mg (16%)
909 mg (19%)
Sodium, Na
226 mg (10%)
241 mg (10%)
Zinc, Zn
0.38 mg (2.5%)
0.50 mg (3%)
Copper, Cu
0.191 mg (10%)
0.251 mg (13%)
Manganese, Mn
0.391 mg (20%)
0.514 mg (26%)
Selenium, Se
0.9 mcg (1.3%)
0.9 mcg (1.3%)
Vitamins:
Vitamin C
30.0 mg (50%)
24.9 mg (42%)
Thiamine (Vit. B1)
0.100 mg (7%)
0.117 mg (8%)
Riboflavin (Vit. B2)
0.220 mg (13%)
0.289 mg (17%)
Niacin (Vit. B3)
0.400 mg (2%)
0.499 mg (2.5%)
Pantothenic acid (B5)
0.250 mg (2.5%)
0.329 mg (3.3%)
Vitamin B6
0.106 mg (5.3%)
0.132 mg (7%)
Folate (Vit. B9)
15 mcg (3.7%)
14 mcg (3.5%)
Vitamin A
6326 IU (127%)
7654 IU (153%)
Vitamin E
1.50 mg (8%)
1.81 mg (9%)
Vitamin K
400.0 mcg (500%)
484.0 mcg (605%)
Percentages are relative to
US Recommended Daily Intake (RDI) for adults.

Source: USDA National Nutrient Database for Standard Reference
You Might Also Like:
Beet Greens Calories
Vegetable Nutrition Facts
Return from Beet Greens Nutrition to Lose Weight With Us Home Page
| | |
| --- | --- |
| Like This Page? | Share This Page: |
Back to top