Lose Weight

Calories in Food

Calories in Vegetables

Calories in Endive
Calories in Endive,
Endive Nutrition

How many calories in Endive? See below, the Endive calories for the different serving sizes. We provide you with the Endive nutrition facts and the health benefits of Endive to help you to lose weight and eat a healthy diet.

Endive is another name for Chicory or Escarole and is bitter in taste. It is a fantastic source of vitamins A and K. Other vitamins and nutrients found include vitamins B1-B3, B5, a trace of B6, folate, beta-carotene, calcium, potassium and a few more.

The Endive is very low in calories. Given the high content of vitamin A and beta-carotene, it is thought to be protective against certain types of cancers. Other Endive benefits include helping to fight off depression. It is also believed to have anti-inflammatory benefits as it contains phenol acid.

Below is a calorie table and a nutrition table for this vegetable. See our vegetable calories comparison chart to compare the calories in Endive with the other calories in vegetables.
Also, have a look how nutritious Endive is in comparison to the other vegetable nutrition facts.
All of our calorie and nutrition data is provided by the US Department of Agriculture.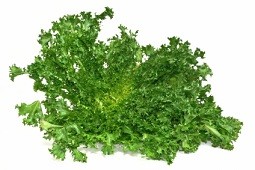 Calories in Endive, Raw
Refuse:
14% (Outer leaves and core)
Scientific Name:
Cichorium endivia
| | |
| --- | --- |
| Serving Size | Calories per Serving |
| 100 grams | 17 kcal (71 kJ) |
| 1 head, 513 grams | 87 kcal (364 kJ) |
| 0.5 cup, chopped, 25 grams | 4 kcal (18 kJ) |
Endive Nutritional Information
Endive, raw
Nutritional value per 100 g (3.5 oz)
Proximates:
Water
93.79 g
Energy
71 kJ (17 kcal)
Carbohydrates
3.35 g
Sugars
0.25 g
Dietary fiber
3.1 g
Fat
0.20 g
Protein
1.25 g
Minerals:
Calcium, Ca
52 mg (5%)
Iron, Fe
0.83 mg (5%)
Magnesium, Mg
15 mg (4%)
Phosphorus, P
28 mg (3%)
Potassium, K
314 mg (7%)
Zinc, Zn
0.79 mg (5%)
Copper, Cu
0.099 mg (5%)
Manganese, Mn
0.420 mg (21%)
Selenium, Se
0.2 mcg (0.3%)
Vitamins:
Vitamin C
6.5 mg (11%)
Thiamine (Vit. B1)
0.080 mg (5%)
Riboflavin (Vit. B2)
0.075 mg (4%)
Niacin (Vit. B3)
0.400 mg (2%)
Pantothenic acid (B5)
0.900 mg (9%)
Vitamin B6
0.020 mg (1%)
Folate (Vit. B9)
142 mcg (36%)
Vitamin A
2167 IU (43%)
Vitamin E
0.44 mg (2.2%)
Vitamin K
231 mcg (289%)
Percentages are relative to US Recommended Daily Intake (RDI) for adults.
Source: USDA National Nutrient Database for Standard Reference

Author: Lana Soko
You Might Also Like:

| | |
| --- | --- |
| Like This Page? | Share This Page: |
Back to top