Lose Weight

Calories in Food

Calories in Meat

Calories in Pork
Calories in Pork, How to Cook Pork to Reduce Calories

Listed below are the calories in pork for the various cuts, including both joints and chops. Pork calories are quite high, so ensure the meat is cooked so as to reduce the calorie content as much as possible. So how do you cook pork to lower the calorie content?

The calories in Pork can be reduced by purchasing lean only pork cuts, trim off the fat before cooking. Broil or roast pork instead of frying; use a paper towel to absorb the extra fat after broiling or grilling. When roasting, roast on a shelf with a tray underneath to catch any fat dripping down.

Pork Recipes: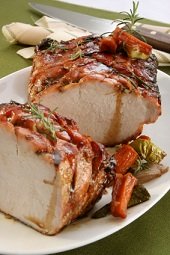 Enjoy losing weight with our Pork diet recipes below

Also, a great way to reduce the fat is by using a
non sticky lean grilling machine
so any fat released during the cooking process will simply run away.
Calories in Pork Tenderloin
Calories in Loin
Calories in Shoulder
Calories in Leg
Calories in Spareribs

Calories in Pork, Fresh, Loin, Tenderloin, Cooked
Serving Size
Calories in Separable Lean Only
Calories in Separable Lean and Fat
Broiled or Grilled
100 grams or 3.5 oz.
187 kcal (782 kJ)
201 kcal (841 kJ)
85 grams, 3 oz
159 kcal (665 kJ)
171 kcal (715 kJ)
1 chop, excluding refuse (yield from 1 raw chop, with refuse, weighing 113 g) 76 grams
137 kcal (571 kJ)
153 kcal (639 kJ)
Roasted
100 grams or 3.5 oz
143 kcal (600 kJ)
147 kcal (615 kJ)
85 grams or 3 oz
122 kcal (510 kJ)
125 kcal (523 kJ)
1 piece, cooked, excluding refuse (yield from 1 lb raw meat with refuse) 333 grams
476 kcal (1998 kJ)
-
1 roast, 402 grams
-
591 kcal (2472 kJ)

Calories in Pork, Fresh, Loin, Whole, Cooked

Serving Size
Calories in Separable Lean Only
Calories in Separable Lean and Fat
Broiled or Grilled
100 grams or 3.5 oz.
210 kcal (879 kJ)
242 kcal (1013 kJ)
85 grams, 3 oz
178 kcal (747 kJ)
206 kcal (861 kJ)
1 chop, excluding refuse (yield from 1 raw chop, with refuse, weighing 151 g) 79 grams
166 kcal (694 kJ)
-
1 chop, excluding refuse (yield from 1 raw chop, with refuse, weighing 151 g) 87 grams
-
211 kcal (881 kJ)
Braised
100 grams or 3.5 oz
204 kcal (854 kJ)
239 kcal (1000 kJ)
85 grams or 3 oz
173 kcal (726 kJ)
203 kcal (850 kJ)
1 chop, excluding refuse (yield from 1 raw chop, with refuse, weighing 151 g) 80 grams
163 kcal (683 kJ)
-
1 chop, excluding refuse (yield from 1 raw chop, with refuse, weighing 151 g) 89 grams
-
213 kcal (890 kJ)
Roasted
100 grams or 3.5 oz
209 kcal (874 kJ)
248 kcal (1038 kJ)
85 grams or 3 oz
178 kcal (743 kJ)
211 kcal (882 kJ)
1 chop, excluding refuse (yield from 1 raw chop, with refuse, weighing 151 g) 81 grams
169 kcal (708 kJ)
-
1 chop, excluding refuse (yield from 1 raw chop, with refuse, weighing 151 g) 89 grams
-
221 kcal (924 kJ)

Pork, Fresh, Shoulder, Whole, Cooked

Serving Size
Calories in Separable Lean Only
Calories in Separable Lean and Fat
Roasted
100 grams or 3.5 oz.
230 kcal (962 kJ)
292 kcal (1222 kJ)
85 grams, 3 oz
196 kcal (818 kJ)
248 kcal (1039 kJ)
1 cup, diced, 135 grams
310 kcal (1299 kJ)
394 kcal (1650 kJ)


Pork, Fresh, Leg (Ham), Whole, Cooked


Serving Size
Calories in Separable Lean Only
Calories in Separable Lean and Fat
Roasted
100 grams or 3.5 oz.
211 kcal (883 kJ)
273 kcal (1142 kJ)
85 grams, 3 oz
179 kcal (751 kJ)
232 kcal (971 kJ)
1 cup, diced, 135 grams
285 kcal (1192 kJ)
369 kcal (1542 kJ)


Pork, Fresh, Spareribs, Cooked


Serving Size
Calories in Separable Lean Only
Calories in Separable Lean and Fat
Braised
100 grams or 3.5 oz.
-
397 kcal (1661 kJ)
85 grams, 3 oz
-
337 kcal (1412 kJ)
1 piece, cooked, excluding refuse (yield from 1 lb raw meat with refuse) 177 grams
-
337 kcal (1412 kJ)
Roasted
100 grams or 3.5 oz.
-
361 kcal (1512 kJ)
1 rack 1,533 grams
-
5534 kcal (23179 kJ)

Source: USDA National Nutrient Database for Standard Reference

Author: Lana Soko










Pork Recipes



You Might

Also

Like:



Back to top