Mango Nutrition Facts,
Health Benefits of Mango

All about mango nutrition information, calories in a mango, nutritional benefits of mango, mango and weight loss

Native to India, the Mango is a fantastic tasting fruit with a smooth juicy yellow flesh. The skin is normally yellow, green, red or even purple. In India they are known as the King of Fruits.

The mango is low in calories, just 60 calories per serving (100g or 3.5oz), is very low in fat and contains no cholesterol. Just be careful not to overdo it, as with this fruit you may eat a lot of it. It's perfect either as a dessert or in between meals when you need a snack.

One serving of mango provides more than 60% of our recommended daily intake of vitamin C. In addition it provides a good source of vitamins A and B9 (folate). As well as other vitamins and minerals, the mango provides modest amounts of vitamin B6 and copper. It also contains good levels of fiber.

The vitamin C and pectin are thought to lower our cholesterol. With its high levels of antioxidants, polyphenols and carotenoids, it is believed to inhibit growth of cancer and reduce the risk of heart disease. Mangoes are known for aiding digestion. They also contain glutamine acid which is considered good for our brain function.

Mangoes have a stone inside, so along with the skin throw it away. Only the yellow flesh can be eaten. When storing, they can be kept in the refrigerator for several days. They are ripe when they leave a slight indentation when pressing them, similar to an avocado.

Mangoes are great if you wish to juice them or maybe make a smoothie – mix with non-fat yoghurt, some orange juice and a dash of lime juice. How healthy is that.
Compare mango nutrition facts to the other fruits.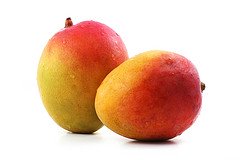 Nutritional Value of Mango
Mangos, Raw
Mango nutritional value per 100 g (3.5 oz)
Refuse: 29% (Seeds and skin)
Scientific Name: Mangifera indica
Proximates:
Water
83.46 g
Energy
250 kJ (60 kcal)
Protein
0.82 g
Carbohydrates
14.98 g
Total Fat:
0.38 g
Fiber
1.6 g
Cholesterol
0 mg
Minerals:
Calcium, Ca
11 mg (1 %)
Iron, Fe
0.16 mg (1 %)
Magnesium, Mg
10 mg (3 %)
Phosphorus, P
14 mg (1 %)
Potassium, K
168 mg (4 %)
Sodium, Na
1 mg (0.04 %)
Zinc, Zn
0.09 mg (0.6 %)
Copper, Cu
0.111 mg (6 %)
Manganese, Mn
0.063 mg (3 %)
Selenium, Se
0.6 mcg (1 %)
Vitamins:
Vitamin C
36.4 mg (61 %)
Thiamine (Vit. B1)
0.028 mg (2 %)
Riboflavin (Vit. B2)
0.038 mg (2 %)
Niacin (Vit. B3)
0.669 mg (3 %)
Pantothenic acid (B5)
0.197 mg (2 %)
Vitamin B6
0.119 mg (6 %)
Folate (Vit. B9)
43 mcg (11 %)
Vitamin A
1082 IU (22 %)
Vitamin E
0.90 mg (5 %)
Vitamin K
4.2 mcg (5 %)
Percentages are relative to US Recommended Daily Intake (RDI) for adults.
Source: USDA National Nutrient Database for Standard Reference
Author: Lana Soko
You Might Also Like:

| | |
| --- | --- |
| Like This Page? | Share This Page: |
Back to top