Mulberry Nutrition Facts and Health Benefits

All about mulberry nutrition, mulberry benefits and calories

Unfortunately you might need to grow your own Mulberry tree or go foraging if you wish to eat this fruit fresh, although if planting from seed, the tree takes up to 10 years to bear fruit. It's very unlikely you'll find this fruit in the supermarket, and possibly only in specialist stores. This is because the fruit is so delicate, it damages very easily.

There are three main varieties, depending on the tree, the white mulberry, the red mulberry and the black mulberry, producing fruit when ripe that is white, red or a deep dark purple. If handling, be aware that it stains everything, and never park your car under a Mulberry tree. The fruit is deliciously sweet and worth searching out.

The mulberry is very low in calories, just 43 calories per serving (100g or 3.5oz). It is very low in fat and contains no cholesterol. It's packed with vitamin C, containing 61% of our recommended daily intake (RDI). The fruit is also a good source of iron and vitamin K along with other modest amounts of vitamins and minerals.

The fruit is packed with anthocyanins which give them their great color. They are believed to prevent damage from free radicals and potentially inhibit cancer. Mulberries contain reservatrol which is thought to lower blood sugar levels and protect against cardiovascular disease.
Additionally, Rutin, which is a flavonoid, is also present in this fruit. It was reported in 2016 by the Institute of Zoology Chinese Academy of Sciences, a government funded research institution, following a study on mice, Rutin activates our brown fat which will burn calories.

Mulberries also have detoxifying qualities and nourish our blood, and are believed to have a tonic action in our kidneys and liver.

The fruit is excellent in jam and can often be found in dried form in health food stores.
Compare mulberry nutrition and their calorie content with the other fruits.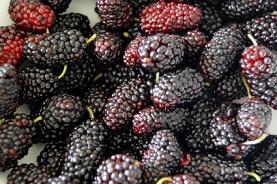 Nutritional Value of Mulberries
Mulberries, raw
Mulberry nutritional value per 100 g (3.5 oz)
Refuse: 0%
Scientific Name: Morus nigra
Proximates:
Water
87.68 g
Energy
180 kJ (43 kcal)
Protein
1.44 g
Carbohydrates
9.80 g
Total Fat:
0.39 g
Fiber
1.7 g
Cholesterol
0 mg
Minerals:
Calcium, Ca
39 mg (4 %)
Iron, Fe
1.85 mg (10 %)
Magnesium, Mg
18 mg (5 %)
Phosphorus, P
38 mg (4 %)
Potassium, K
194 mg (4 %)
Sodium, Na
10 mg (0.4 %)
Zinc, Zn
0.12 mg (0.8 %)
Copper, Cu
0.060 mg (3 %)
Selenium, Se
0.6 mcg (1 %)
Vitamins:
Vitamin C
36.4 mg (61 %)
Thiamine (Vit. B1)
0.029 mg (2 %)
Riboflavin (Vit. B2)
0.101 mg (6 %)
Niacin (Vit. B3)
0.620 mg (3 %)
Vitamin B6
0.050 mg (3 %)
Folate (Vit. B9)
6 mcg (2 %)
Vitamin A
25 IU (0.5 %)
Vitamin E
0.87 mg (4 %)
Vitamin K
7.8 mcg (10 %)
Percentages are relative to US Recommended Daily Intake (RDI) for adults.
Source: USDA National Nutrient Database for Standard Reference
Author: Lana Soko
You Might Also Like:

| | |
| --- | --- |
| Like This Page? | Share This Page: |
Back to top