Durian Nutrition Facts,
Health Benefits of Durian

All about durian fruit nutrition, durian nutritional benefits, calories in durian fruit, durian benefits

The durian is a popular fruit across Asia and to some noses is very pungent. It's hidden inside a large husk, thought to be ready to eat once the husk cracks.

For a fruit, the durian is high in calories, approx. 147 calories per serving (100g 3.5oz). It's also high in fat (more than 5g per 100g serving) and carbohydrates. It contains no cholesterol. If you are on a weight loss diet, you may wish to consider other fruits that have a lower fat content.

The durian fruit though, is packed with vitamins and minerals. It provides more than a third of our daily recommended intake (RDI) of vitamin C which amongst other things protects us against the common cold. It is also packed with the B vitamins, especially thiamine, riboflavin, B6 and folate. The B vitamins are great for our nervous system and give us energy. The fruit is also a good source of magnesium, which helps to modulate our blood pressure, potassium which is thought to help protect our heart and fiber which is good for digestion.

If you are following a low GI diet, it is best to avoid this fruit as it is considered high in the glycemic index. The seeds of the durian are toxic, but can be eaten if they are cooked.
Compare durian nutrition facts to the other fruits.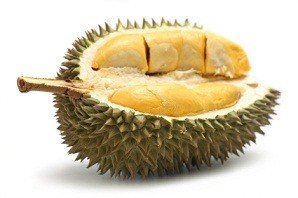 Nutritional Value of Durian
Durian, Raw or Frozen
Durian nutritional value per 100 g (3.5 oz)
Refuse: 68% (Shell and seeds (for raw fruit))
Scientific Name: Durio zibethinus
Proximates:
Water
64.99 g
Energy
615 kJ (147 kcal)
Protein
1.47 g
Carbohydrates
27.09 g
Total Fat:
5.33 g
Fiber
3.8 g
Cholesterol
0 mg
Minerals:
Calcium, Ca
6 mg (1 %)
Iron, Fe
0.43 mg (2 %)
Magnesium, Mg
30 mg (8 %)
Phosphorus, P
39 mg (4 %)
Potassium, K
436 mg (9 %)
Sodium, Na
2 mg (0.1 %)
Zinc, Zn
0.28 mg (2 %)
Copper, Cu
0.207 mg (10 %)
Manganese, Mn
0.325 mg (16 %)
Vitamins:
Vitamin C
19.7 mg (33 %)
Thiamine (Vit. B1)
0.374 mg (25 %)
Riboflavin (Vit. B2)
0.200 mg (12 %)
Niacin (Vit. B3)
1.074 mg (5 %)
Pantothenic acid (B5)
0.230 mg (2 %)
Vitamin B6
0.316 mg (16 %)
Folate (Vit. B9)
36 mcg (9 %)
Vitamin A
44 IU (1 %)
Percentages are relative to US Recommended Daily Intake (RDI) for adults.
Source: USDA National Nutrient Database for Standard Reference
Author: Lana Soko
You Might Also Like:

| | |
| --- | --- |
| Like This Page? | Share This Page: |
Back to top