1300 Calorie Diet Plan for 7 Days

We provide you with a free sample of the 1300 calorie diet for 7 days to help you to lose weight fast and eat healthy. This plan consists of 5-6 small low calorie meals throughout the day and is based on the principle that eating little and often will maintain both your glucose levels in the blood stream (blood sugars) and energy at steady levels. Regulation of blood sugars is very important, as a large rise in sugar triggers the fat storing hormone, insulin.

How to follow the diet plan:
If you are planning to lose weight, find out if reducing your calorie intake to 1300 calories a day is suitable for your daily activity levels. Check how to calculate your recommended

calorie intake for weight loss.

You will also need to know the

calories content of foods

and

how to count calories.

Using a

digital nutrition calculator

will simplify not only calories counting, but will also help you to track your nutritional intake. Unfortunately, calorie tracking is the most boring and time consuming part of dieting, which could be difficult to stick to for a long time. However, you can still lose weight without tracking every calorie you have eaten, learn how.
Food Recommendation for 1300 Calorie Diet:
This is a flexible diet plan so you can pick and choose the foods you fancy, as long as you do not have more than 1300 calories per day. However, dieters experience greater weight loss if the diet is based on low glycaemic index foods.
The 1300 calorie meal plan is given below. You can alternatively include in your diet foods with the same nutritional content instead of the foods listed. For example: swap 1 oz. of chicken for 1 oz. of beef or fish, an apple for an orange, etc. You can also swap lunch and dinner or snacks on the same day and include as many calorie and caffeine free drinks as you like. Limit your caffeine consumption of tea and coffee to 2 cups per day. Drink 2 litres of water daily.
Before starting this 1300 calorie menu or any other diet plan seek advice from a health professional.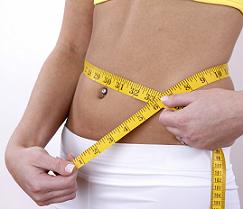 1300 Calorie Diet Menu
Breakfast:
2 waffle plain (square - 4" square or round - 4"dia) – 2 x 33 grams – 206 kcal
1 tbsp of maple syrup – 20 grams - 52.2 kcal
1 tbsp of butter - 14grams – 100 kcal
8 oz. of water or decaffeinated coffee without sugar – 0 kcal
Total: 358.2 kcal
Lunch :
1 cup of skim milk – 247 grams - 86.5 kcal
Salad made of raw vegetables :
1 cup of shredded romaine or cos lettuce - 47grams - 8.0 kcal
¼ cup of chopped carrots – 32 grams – 13 kcal
¼ cup of chopped green peppers – 37.3 grams – 7.5 kcal
¼ cup of shredded cabbage – 17.5 grams – 4.2 kcal
¼ cup of chopped celery – 25 grams – 4 kcal
Total calories in the salad: 36.7 kcal
1 tbsp fat free salad dressing – 14 grams - 6.6 kcal
1 whole grain roll (1 oz) or 28 grams – 74 kcal
Total: 203.8 kcal
Afternoon Snack :
½ cup of sliced strawberries – 88 grams – 26.6 kcal
6 oz. fat free, fruit yogurt - 170 grams – 161 kcal
Total: 187.6 kcal
Dinner :
3 oz. sirloin steak, lean only, grilled – no fat added – 85 grams – 225 kcal
1 cup of cooked wild rice -164 grams – 166 kcal
1 pat of butter (1" sq, 1/3" high) - 5g - 35.8 kcal
½ cup of sliced cooked carrots – 78 grams - 27.3 kcal
1 mixed salad from above – 36.7 kcal
2 tbsp fat free dressing – 28 grams – 13.2 kcal
Total: 504 kcal

Evening Snack :
1 small orange (2-3/8" dia) – 104 grams – 49 kcal
Total 49 kcal
---

Total calorie intake per day: 1300 kcal
Watch this free video about how to lose weight without having to count calories. Watch now.

1300 Calorie Diet for Weight Loss:

Author: Lana Soko










| | |
| --- | --- |
| Like This Page? | Share This Page: |
Back to top